Summer weeks in Czech Republic
Friday 12 - Wednesday 31 July 2019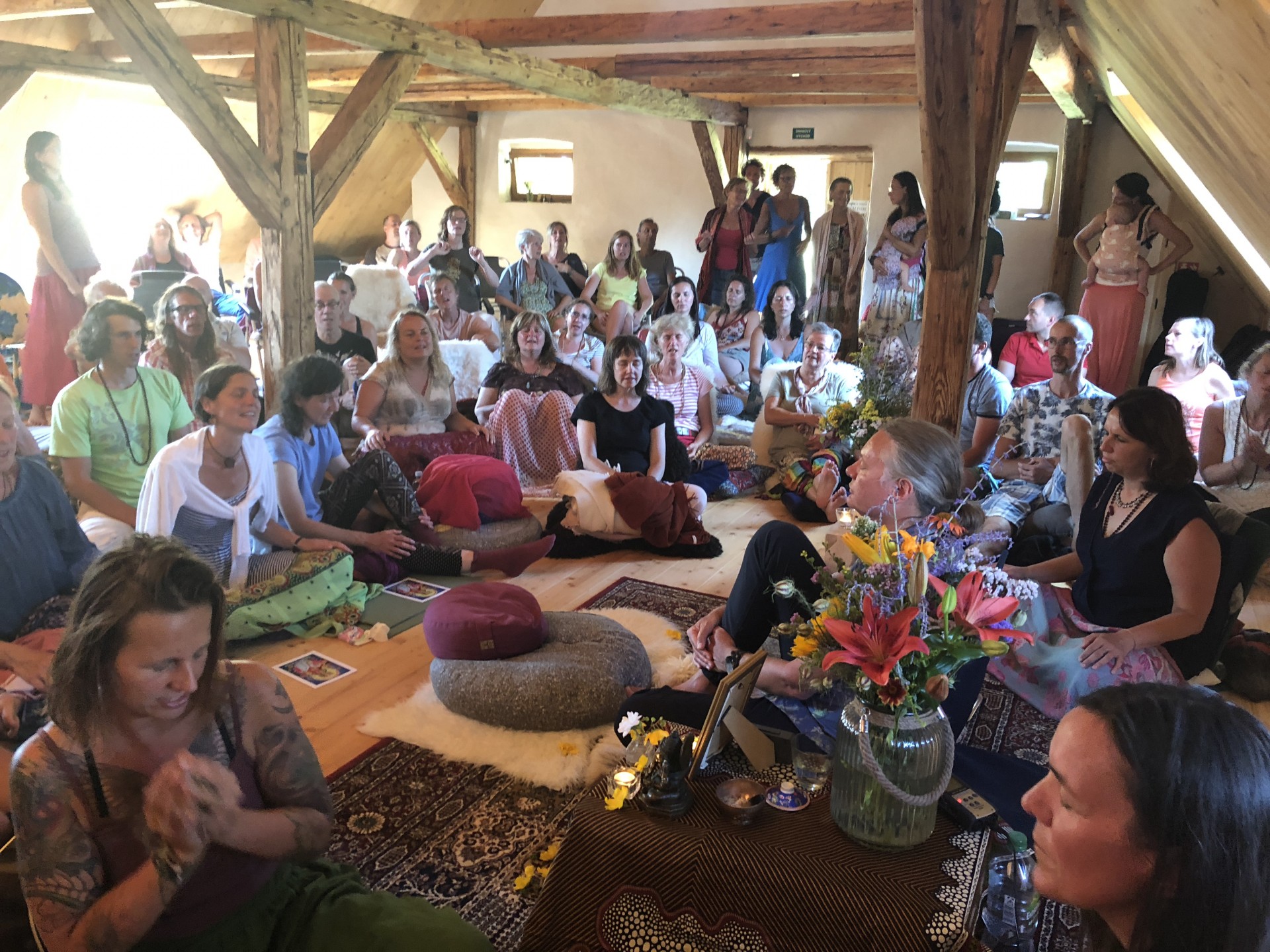 This year the summer weeks are again in 'Skanda' in the town of Zdonov in the north of the Czech Republic, near the Polish border.
The Center Skanda is not far from the Giant Mountains near the beautiful village of Adrspach with its magnificent rock formations.
You are welcome from afternoon, Thursday, July 11. There is enough time to build your tent or accommodate yourself in a boarding house nearby. You can also sign up for the dinner. The departure day is Thursday, August 1.
The program starts on Friday, July 12 at 8:00 in the morning by Gayatri mantra recitation and ends on Wednesday, July 31 in the evening.
You can come for the whole period or only for a few days. Let us know when you plan to arrive and leave. Children are most welcome.
Gurupurnima
On Tuesday, July 16 we will celebrate the Gurupurnima day. On this day, everybody initiated by Naropa into the Guru mantra can confirm their commitment. This day is a celebration – we celebrate and share our connection and love for freedom and truth.
Program
Every day, there is one hour of silent meditation, Gayatri mantra recitation, satsang and seva (unselfish work). There is also an additional program including movie projection, playing music and singing bhajans. There is a swimming pool nearby and also beautiful swimming in the nature. The place is ideal for hikes, starting directly from the center Skanda or in the natural reservation Adrspach.
Auschwitz
On Sunday, July 21 we will go together by bus to Auschwitz in Poland after the afternoon satsang. We have booked a hotel 10 minutes walking distance from the entrance and a bus with a busdriver who will take us there and back. It is necessary to book in advance with us. On Monday, July 22 we will visit the concentration camp Auschwitz and Birkenau and in the evening we will return to Zdonov. This trip includes the rented bus, hotel, entrance and a 6-hour guided tour (in English or Czech). The price of this trip is only its costs. The tour is not recommended for children. During these days it is possible to stay in Zdonov for the price of accommodation and food.
Costs
The cost per day with full board is € 45 when you are staying in your own tent. Children from 6 to 11 pay € 8 and 12 years and older € 12 per day. Children under 5 do not pay. When you are accommodated in a boarding house, the price of one day is € 41 and you pay for the accommodation separately. It is possible to ask for a discount if you are staying longer than 5 days and you cannot afford the full price.
Accommodation
If you do not want or can't camp, it is advisable to book accommodation in time. We recommend the following addresses:
Apartmany U Vydry (Zdonov 228) http://www.apartmany-uvydry.cz/cs/ – 350, -CZK / night, rooms for three, a 3-minute walk.
Guest-Slunovrat and Montana (Zdonov 200 Zdonov 80) http://www.montana-trekking.cz/en – about 450, – CZK / night 2 large houses, 5-min walk
Apartments Kovárna (Zdoňov193), http://www.apartmanykovarna.cz/, exclusive double-room apartments, 15-min walk, from 2100 CZK/four-bed apartment
Paul Schotanus (Zdonov 185) http://www.zdonov.nl/ 06-25020686. 275, -Euro / week for the house, 1 min walk
Camp on the Polish / Czech border (Zdonov 143) +420737312308 150 CZK / night – old 4-bed cabins with new shared bathrooms, 3km
Registration
Please register through email naropacz@gmail.com or info@naropa.eu.
Centrum Skanda, Zdoňov 84, 549 57 Teplice nad Metují, okres Náchod
People arriving by train can be picked up from the Adrspach train station. For this call Antonin +420 734 225 558 or Jana +420 728 400 257.
If you are coming by car, you do not need a vignette in the vicinity of Zdonov. Where you do need a vignette can be checked on this website: https://www.hartmanova.eu/tol-vignet/
Centrum Skanda